Our Solutions
In the warehouse, distribution center, and on the manufacturing shop floor TouchPath works to streamline your processes and operations. Eliminate common frustrations and problems. Increase efficiencies and visibility. Boost customer satisfaction and your bottom line.
Why TouchPath?
Seamless Integration with
ERP's (ERP-LX/BPCS, M3/Movex, JDE, SAP, Oracle, MS Dynamics)
Manufacturing Execution Systems (Werum, Lighthouse)
Laboratory Information Management System (LIMS)
Quality, Legacy, or other back office Systems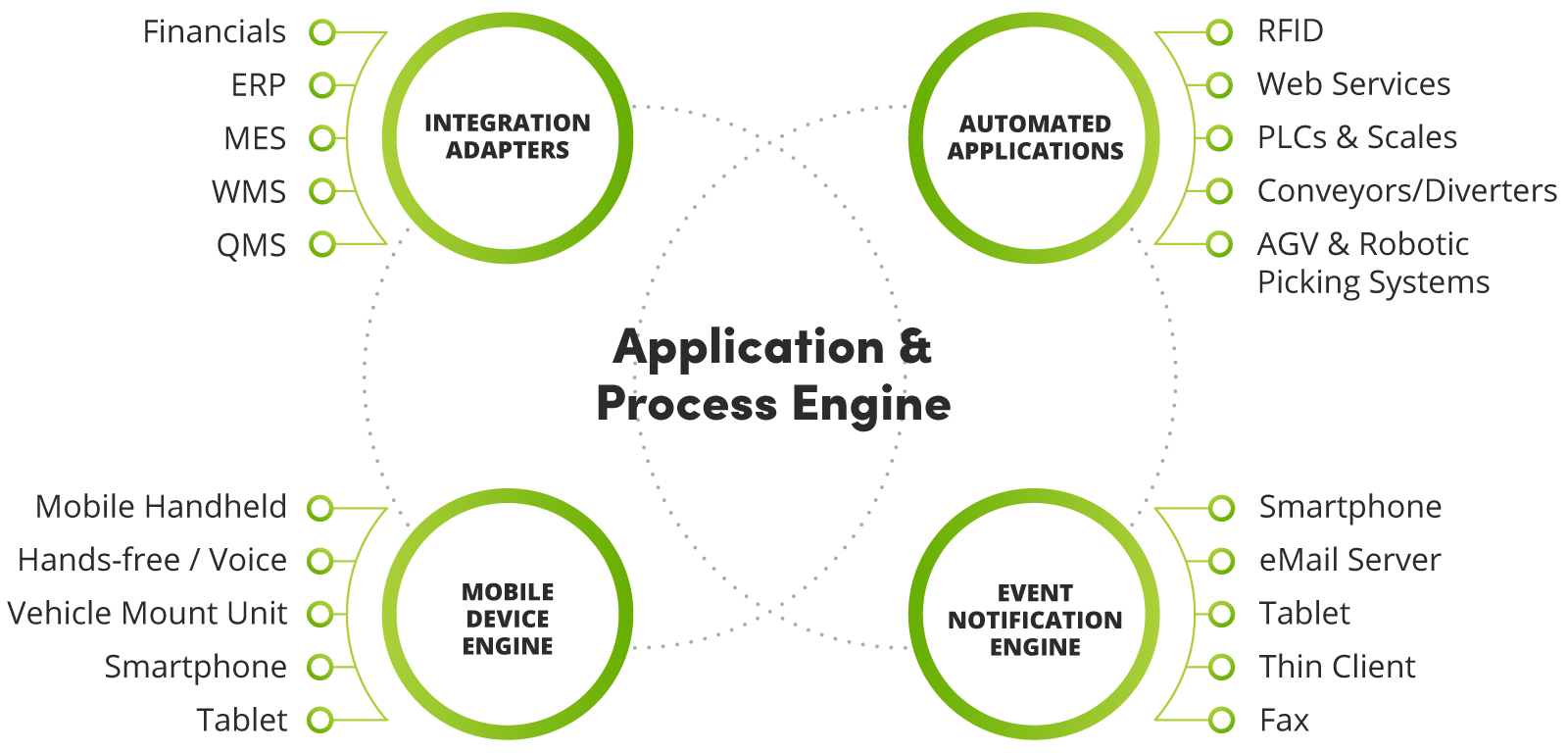 Comprehensive platform that interacts individually or simultaneously with many forms of Auto-ID technology, including RFID, barcodes, sensors, scales, PLC's, voice, and biometrics.
Robust, Scalable, Flexible, and Tailorable process management infrastructure with successful installations worldwide.
Multi-lingual Operations using Unicode language standards, meaning you have a truly global solution.
Total Solution provider with a single point-of-contact for software, hardware, services, and support.
About Us
What is a WMS?
The objective of a warehouse management system is to provide a set of computerized procedures to handle the receipt of stock into a warehouse, define the physical layout (e.g. racking, zones, etc), and manage the inventory. Provides a seamless link to order processing and logistics management in order to pick, transfer and issue materials. Put simply the primary purpose of a WMS is to control the movement and storage of materials within a warehouse(s).
Learn More About Our WMS
Industries
A wealth of industries already benefit from the time saving, cost efficiencies of using TouchPath solutions. For warehouse management, shop floor data capture, tracking assets, tools, equipment, or even employees, TouchPath is the partner of choice for many leading organizations in the world. Our systems benefit any company that relies on effective warehouse management. How can we help you?
What People are Saying
"The planned increase in our manufacturing capacity will have an impact on the volume and diversity of product we make and send to the warehouse. Going forward, best-in-class stock control and traceability based on seamless shop floor and warehousing information are therefore essential. Our market research has shown that TouchPath has the knowledge and expertise to provide the system we need and rapidly customise it for us. They understand the risks inherent in integrating new ERP and WMS systems and have successfully minimised those risks for us. They are also very cost-competitive."
Dr Mohammed Nawaz
Operations Director, Norcros Adhesives